LegalFAB announces its latest Blockchain-Enabled Authentication for the Legal Industry at Info-communications Media Development Authority (IMDA)'s Singapore Digital Industry Day on 22 November 2018, in Singapore. Aligned with IMDA's blockchain initiatives to educate and showcase how blockchain technology can be applied to address different use cases across various industries, LegalFAB is working to develop a blockchain-based solution for the document authentication and further engage with key partners in the legal and finance sectors.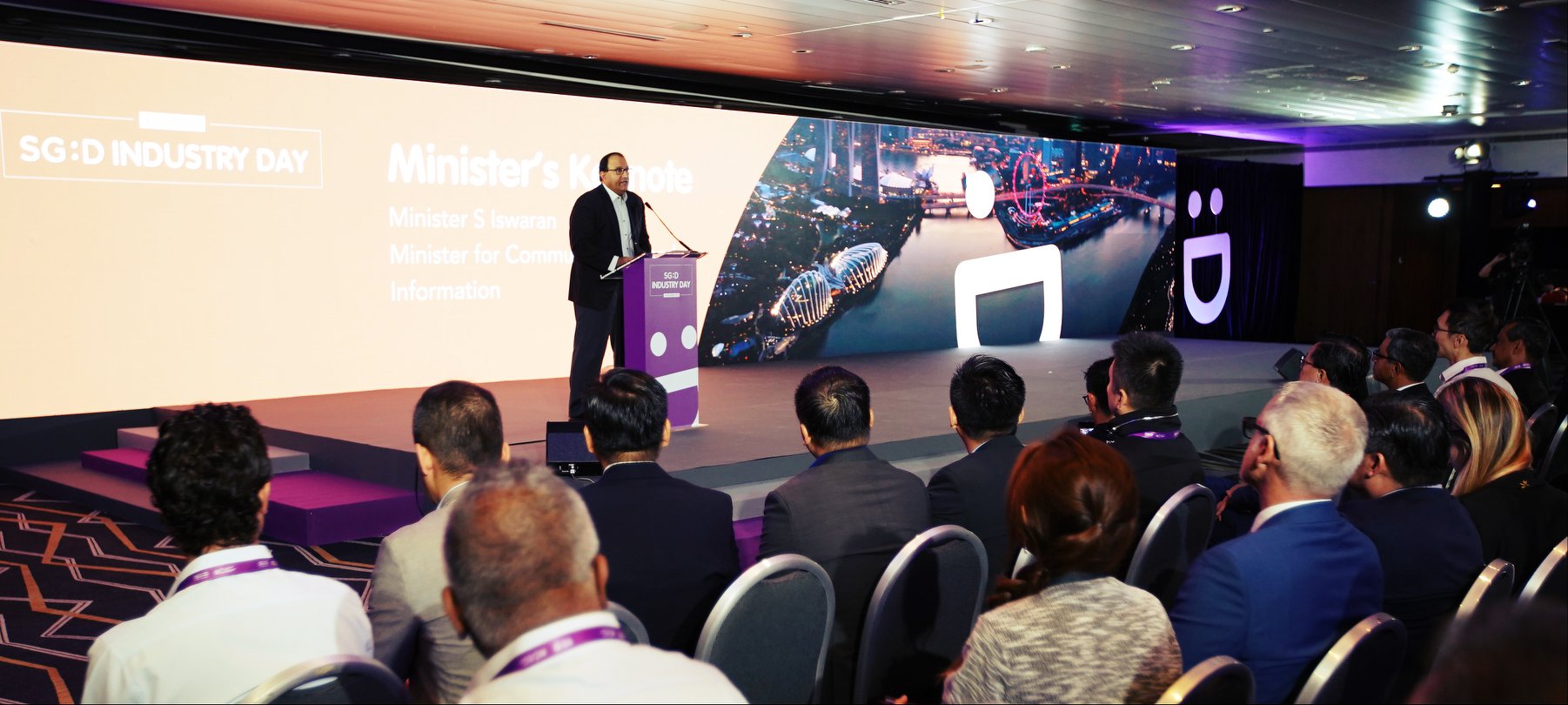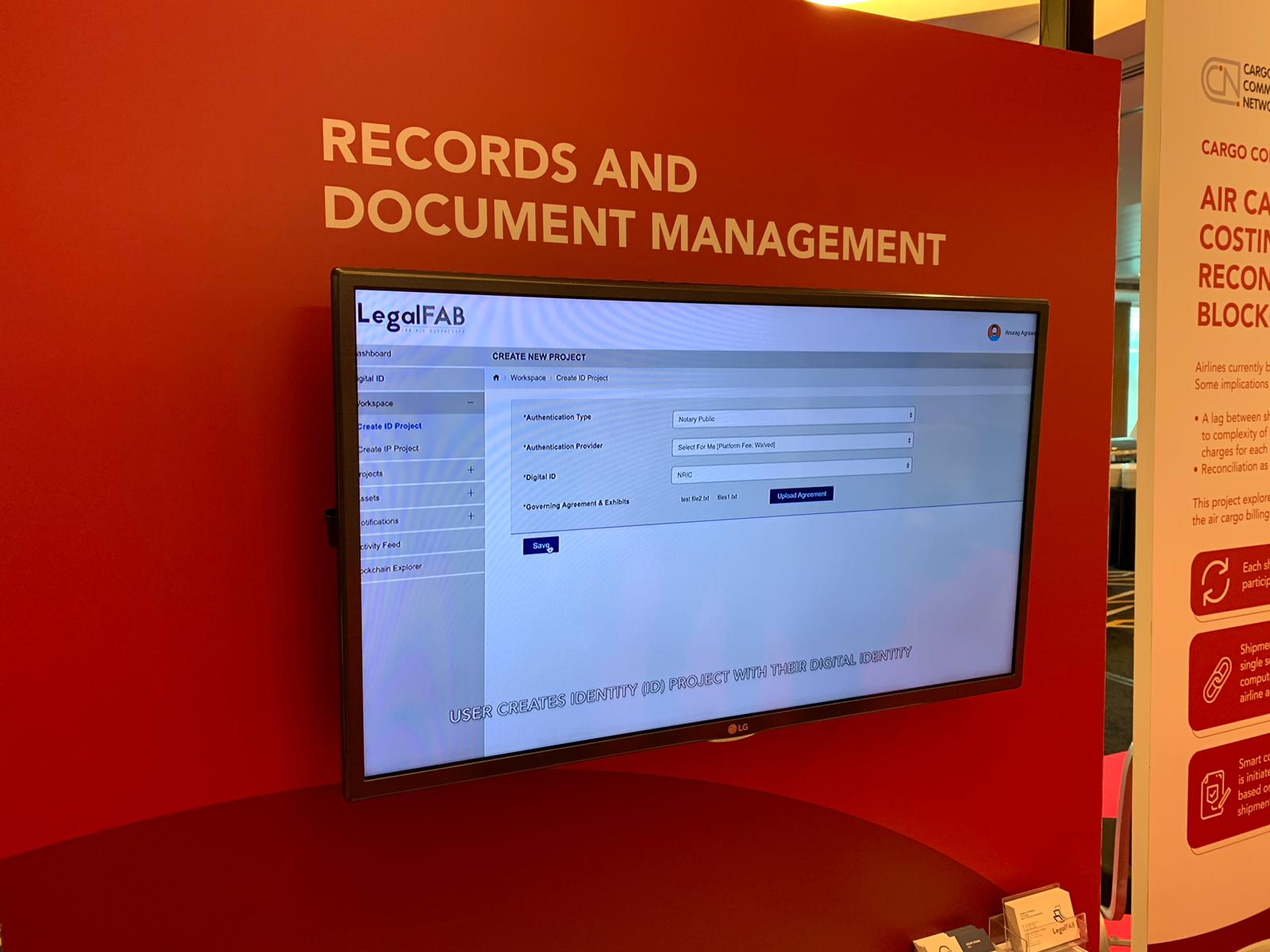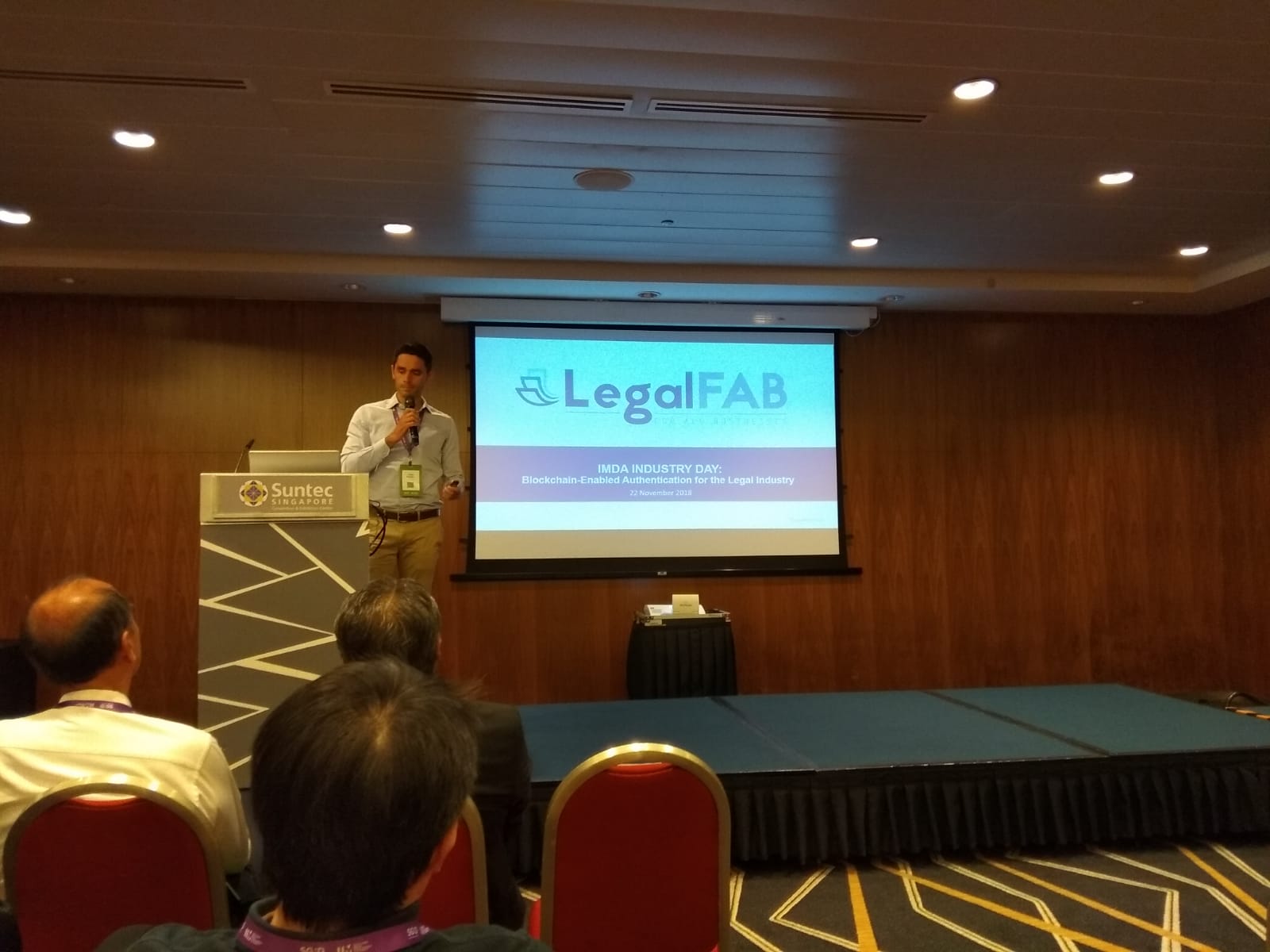 Company and Partners:
LegalFAB Private Limited
LegalFAB is a technology company focused on changing the way businesses transact. Our solutions are used by both law firms and businesses to streamline the drafting process, enhance collaboration, and better manage transaction workflow on a distributed ledger platform. In 2018, LegalFAB won the TechLaw.Fest Hackathon organized by the Singapore Academy of Law and Personal Data Protection Commission of Singapore with its leading digital signature blockchain solution and was selected for the inaugural IMDA Blockchain Challenge in 2018.
Singapore Academy of Law
The Singapore Academy of Law (SAL) is a statutory body in Singapore. SAL is a promotion and development agency for Singapore's legal industry. SAL also undertakes statutory functions such as stakeholding services and the appointment of Senior Counsel, Commissioners for Oaths and Notaries Public. In January 2018, SAL launched the Future Law Innovation Programme (FLIP), a two-year pilot programme to encourage the adoption of technology, drive innovation and create a vibrant ecosystem for legal technology.
Dentons Rodyk & Davidson LLP
Dentons is the world's largest law firm, delivering quality and value to clients around the globe. Dentons is a leader on the Acritas Glboal Elite Brand Index, a BTI Client Service 30 Award winner and recognized by prominent business and legal publications for its innovation in client service, its polycentric approach and world-class talent challenge the status quo to advance client interests in the communities in which we live and work. Dentons Rodyk & Davidson LLP is a limited liability partnership registered in Singapore and a member of Dentons global legal practice. In 2018, Dentons Rodyk joined FLIP as the featured international law firm among the participating law firms.
Rajah & Tann Singapore LLP
Rajah & Tann is one of the largest full service law firms in Singapore, providing full service and high quality advice to an impressive list of clients. With more than 300 lawyers, many are ranked among the very best in their specialist practice areas. In 2018, Rajah & Tann joined FLIP among the participating law firms.
Xfers Pte Ltd
Xfers is a Singapore-based fintech company that helps businesses accept payments online and in mobile apps by providing payment processing services for credit card processing and Internet banking transfers. Additionally, Xfers users are provided with e-wallet services so that they can top up and easily make repeat purchases from Xfers merchant clients. Xfers is regarded as a Stored Value Facility in Singapore and is regulated by the Monetary Authority of Singapore.
As a graduate of Y Combinator's Summer 2015 Class, Xfers aims to unify banking networks across Southeast Asia. Featured on Techcrunch and coined as the Paypal of Southeast Asia by CNBC, we simplify and redefine the process of collecting and receiving bank transfer and credit card payments in both Singapore and Indonesia. Xfers is backed by venture capital firms such as Y Combinator, Challenger, Quest Ventures, 500 Startups, Golden Gate Ventures and angel investors such as Eduardo Saverin. For the year of 2017, Xfers processed SGD 230m worth of payments in Singapore. Xfers is the preferred e-payments solution provider for the platform.
For more information about the project, please email us at info@legalfab.com.
(Picture courtesy of IMDA)